For grades 5 & 6
Sleeping all week in a treehouse  and making many of their own meals over an open fire, our Vagabond campers get to experience camp the way it was meant to be – in the great outdoors! But Vagabonds don't rough it too much; the campsite has a bathhouse with hot water and toilets. Each treehouse has bunk beds and campers sleep on mattresses.
Our Vagabond program teaches valuable social survival skills and helps campers gain self-esteem and independence.  Highlights for Vagabonds include a river tubing trip, candle making, and playing gaga ball at the camp site.
Sampler Week is a shortened week of camp that is a perfect opportunity for those campers who aren't sure they are ready for a full week of camp or who have a very full summer schedule. Campers will get a sample of a typical week at camp and the best of the activities from music and nature week.
Due to the shorter week, there is also a reduced rate. Registration for this week is on Sunday, July 1, and the program concludes 11 a.m. Tuesday with closing worship.
Families are welcome to join for closing chapel, and lunch afterwards is available for those who would like to stay.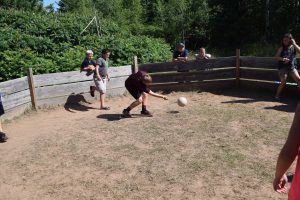 Sample Schedule:

8:00  Devotions
8:30 Breakfast
10:00 Chapel
11:00 Bible Study
Noon- Lunch
12:30 Sacred Silence
1:30- 2:30 Power Hour (All Camp activities)
2:30- 4:30 Magical Time (Free Choice time- beach, arts & crafts, canteen, basketball, other activities)
4:30- 5:30 Cabin Time
5:30 Dinner
7:00 Evening activities
8:30 Campfire
9:30 Devotions
Vagabond Program is also offered: