For adults with disabilities.
This program empowers adults with special needs and gives them the experience of a lifetime! Activities are adapted to meet individual needs; small cabin groups allow staff to provide all the individual attention necessary.
Trained health care staff personnel manage medication, but campers who require 24-hr. care must be accompanied by same-sex caregivers. It's so great that several campers come for both weeks Victory Camp is offered!
Families are welcome to join for closing worship, and lunch afterwards is available for those who would like to stay.
Sample Schedule:   
8:30 Breakfast
9:30 Ladies Bible Study in Chapel/ Men in Arts and Crafts
10:30 Men Bible Study in Chapel/ Women in Arts and Crafts
11:30 Playground time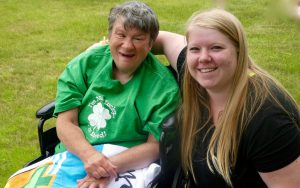 12:00 Lunch
1:00 Nap time
2:00 Chapel
3:00 Canteen
4:00 Beach
5:00 Dinner
5:45 Playground time
6:30 Evening Activity (Dance, Spirit Bingo, Prayer Walk, Talent Show)
7:30 Canteen
8:30 Campfire
9:00 Bedtime
Victory Camp is also offered:
June 11-15: Week 1