For grades 3 & 4
There is never a dull moment at Fortune Lake for our Villager Campers! With opportunities for swimming, boating, playing games, and singing songs, campers are loving Fortune Lake from morning 'til night! A week as a Villager will help your child grow in faith, build friendships, gain confidence and learn independence. They will come home filled with amazing stories!
Full week also offered Week 5; both weeks have optional time for nature or music focus.
Families are welcome to join for closing worship, and lunch afterwards is available for those who would like to stay.
Sample Schedule: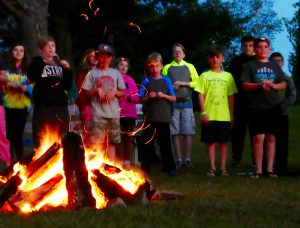 8:00  Devotions
8:30 Breakfast
9:00 Camp Clean Up
9:30 Playground Time
10:00 Chapel
11:00 Bible Study
Noon- Lunch
12:30 Sacred Silence
1:30- 2:30 Power Hour (All Camp activities)
2:30- 4:30 Magical Time (Free Choice time- beach, arts & crafts, canteen, basketball, other activities)
4:30- 5:30 Cabin Time
5:30 Dinner
6:30 Evening activities
8:30 Campfire
9:30 Devotions
Villager Program is also offered: