For grades 9 – 12
High Schoolers – Whether you're coming to Fortune Lake for the first time or have been coming for years, this will be a week that just might change your life. There will be opportunities for adventure, deep Bible studies, powerful worship experiences, new friends, and lots of fun in a beautiful outdoor setting!
Families are welcome to join for closing worship, Friday at 11:00 and lunch afterwards is available for those who would like to stay.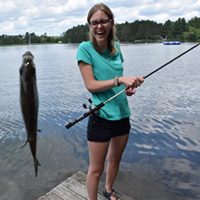 Sample Schedule:

8:00  Devotions
8:30 Breakfast
9:00 Camp Clean Up
9:30 Playground Time
10:00 Chapel
11:00 Bible Study
Noon- Lunch
12:30 Sacred Silence
1:30- 2:30 Power Hour (All Camp activities)
2:30- 4:30 Magical Time (Free Choice time- beach, arts & crafts, canteen, basketball, other activities)
4:30- 5:30 Cabin Time
5:30 Dinner
7:00 Evening activities
9:00 Campfire
9:30 Devotions
10:00 Late Night Activities
Also for high-schoolers looking for additional camp experiences or considering a future as a Camp Counselor, see our LIT (Leaders-In-Training) Program during Week 5 and following.
Also for high school students: