For Grades 7 & 8
Fortune Lake provides exactly what middle school campers need: adventure, challenge, acceptance, relationships, and time to grapple with deep questions in the midst of having fun! Venturers live it up with campfires, games, basketball, beach fun and even an overnight adventure!
Full week also offered Week 6; both weeks have optional time for nature or music focus.
Families are welcome to join for closing chapel, and lunch afterwards is available for those who would like to stay.
Sample Schedule: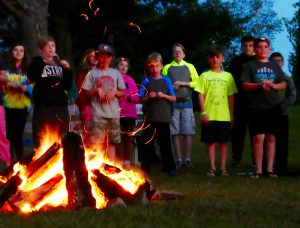 8:00  Devotions
8:30 Breakfast
9:00 Camp Clean Up
9:30 Playground Time
10:00 Chapel
11:00 Bible Study
Noon- Lunch
12:30 Sacred Silence
1:30- 2:30 Power Hour (All Camp activities)
2:30- 4:30 Magical Time (Free Choice time- beach, arts & crafts, canteen, basketball, other activities)
4:30- 5:30 Cabin Time
5:30 Dinner
6:30 Evening activities
8:30 Campfire
9:30 Devotions
Venturer program also offered: