For grades K- 5
Onsite is an opportunity for campers to get to experience camp during the day, but do home each evening. Come and experience fun games, engaging Bible studies, songs, swimming, crafts and much more!
Families are welcome to join for closing worship, and lunch afterwards is available for those who would like to stay.
Camp runs from 9am-4pm Monday through Thursday and 9am-11am on Friday.
Sample Schedule: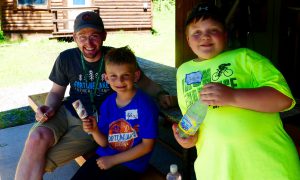 8:30- 9:15 Registration/ Playground time
9:15 Chapel
10: 00 Bible Study
11:00 Games
12:00 Lunch
12:30 Playground Time
1:30 Beach
2:30 Arts & Crafts / Canteen
3:30 Games, Closing Worship & Playground time
4:00 Sign Out
Onsite Day Camp is also offered: